Exhibition "Forget-me-nots" in the museum "Riga Art Nouveau Centre"
25.05.—25.09.2022.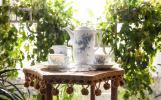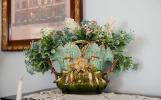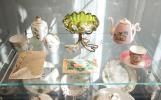 During bright and sunny summertime museum "Riga Art Nouveau Centre" encourages You to draw Your attention to the blue forget-me-not. On the dedicated exhibition various applied art objects, interior decorations, tableware, books, postcards and embroideries from eleven Latvian museums and several private collections. Small, but entwined in the lore of numerous nations, flower of the forget-me-not symbolizes faith and memory. It is closely connected to the European culture since Middle Ages and does not lose its relevance nowadays.

The oldest objects on display are potpourri vases dated the second half of the 18th century, where forget-me-not flowers are wrapped in luxurious flower compositions. On the other hand, during the Art Nouveau period, these flowers gained special popularity as symbols of romantic love - they decorate both postcards and pocket-sized poetry books, or attached to letters. They also flourish in porcelain, glass and embroidery. Forget-me-not flowers were also widely used as decorative elements in the second half of the 20th century.
Items, demonstrated on the exhibition, are from the collection of the "Riga Art Nouveau Center" museum, as well as from the Jaunmoku Palace Museum, the Latvian War Museum, the Latvian Medical Museum, the Liepāja Museum, the Ogre Museum, the Riga Porcelain Museum, the Museum of Riga History and Navigation, the Rundāle Palace Museum, the Literature and Music museum, Tukums museum and several private collections.
The exhibition at the "Riga Art Nouveau Center" museum can be viewed until September 25, 2022. The museum is open from 10.00 a.m. to 6.00 p.m. every day except Mondays.