The Jewel of Riga Art Nouveau – Alberta iela 2
19.07.—26.07.2021.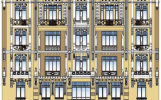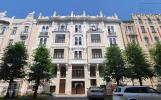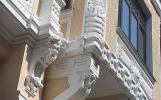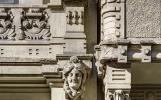 A walk along Alberta iela will surprise – an eclectically decorative Art Nouveau building in Alberta iela 2, constructed by civil engineer Mikhail Eisenstein is under reconstruction this summer and now is a bright and sunny. The façade renovation project is being implemented by SIA "Rīgas namu pārvaldnieks". The works are carried out in cooperation with SIA "Fasāde PRO". The total cost of the project is about 127 thousand EUR and it is planned to be completed by autumn 2021.
Apartment House of Vladimir Boguslavsky in Alberta iela 2 (1906) designed in the manner of Eclectically Decorative Art Nouveau. The façade abounds in decorative elements, but none of them stands out. Eisenstein planned to include two groups of sculptures in the attic, but only one was set up. The layout of the house is identical to Alberta iela 2a.
Text material using Dr. arch. Agrita Tipāne, Dr. arch. Jānis Krastiņš studies. Photo by Margarita Fedina, Iveta Sproģe and Plans of the reconstruction (2021) by "Rīgas Namu Pārvaldnieks".
Routes - The jewels of Riga Art Nouveau