Exhibition "Home Concert. Johann Walter – 150"
27.02.—19.05.2019.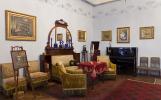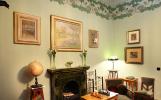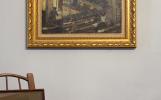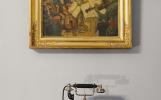 On 3 February, 2019 we celebrated 150th anniversary since Johann Walter's (1869–1932) birth. The building where he was born along with the workshop arranged there was destroyed during World War Two, however the Museum of Riga Art Nouveau Centre invites everybody who respects Walter's art to visit the exhibition "Home Concert".

The violin accompanied Walter both during his studies in at the Royal Art Academy in St. Petersburg as well as in the first period of his independent work in Jelgava (1898–1906) and later in Dresden (1906–1916) and Berlin (1916/1917–1932), where he was known as Walter-Kurau). Not only did music influence Walter's search in paintings and theoretical beliefs, but it also created friendship and family bonds, sense of belonging, unity and sense of home.

"All of them represent music and this is why they are so special," was written in Dresdner Neueste Nachrichten by a newspaper reviewer about Walter's paintings in 1933 during his commemoration exhibition. The reviewer emphasized the interaction between the visual experience and the world of sounds as a key to understanding his personality and contribution. Instead of a representable scope of pieces, the exhibition offers a chance to look into the private display of the dialogue between art and music and most of all makes the viewer think about its roots in the early period of Walter's art – the turn of the 19th and 20th century when the impressionistic feeling of presence in his observations merged with the abstracting stylization of art nouveau.

"Home Concert" does not represent just a topic of one of the exhibited pieces and a motif of Walter's biographic evidences – this is how we could also perceive the "life" of the pieces of art in a private environment during the process of their creation and nowadays. Along with two portraits from the National Art Museum of Latvia the rest of the pieces have been lent by the Zuzans family collection in Mukusala Art Saloon and other private collections. Comprising the period from the end of the 19th century up to 1920s, the exhibition will delight the artist's fans with the opportunity to revisit the pieces as well as see the paintings that have come under specialists' attention in the decade after Walter's 140th anniversary events. Particular attention within the exhibition topic should be paid to a small watercolour painting from 1897 (Zuzans' family collection) – a draft for the painting Prélude Chopin op. 28 no. 6 (its fate is unknown), which was exhibited in 1898 in the Spring exhibition in St.Petersburg and gained a wide-range of response from praise to criticism.