Exhibition "Italian Christmas"
07.12.—13.01.2019.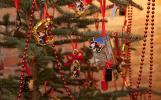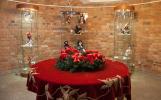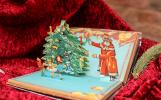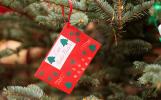 At the beginning of the 20th century, Italian Christmas traditions were similar to those of other catholic countries. However, each country has its special flavour as well. This year the Christmas design of the art nouveau interior features the festive decorations made by artist Tamāra Čudnovska – paper decors, masks, fans, Sun and Moon motifs and others reminding of the Carnival in Venice. Christmas tree is a part-and-parcel of the celebration. It is traditionally trimmed with red and golden decorations. The interior is also adorned with the scene from Bethlehem - Christ in the manger made of ceramics or porcelain. Another indispensable part of the celebration is Christmas treats – Christmas cake panettone on the festive table. Another special thing stored in cabinets for Christmas is the 16th century Italian board game Tambola.

The exhibition will feature not only the special interior design, but also thematic exhibitions. One of them presents sculptures created by 10 Italian artists on the theme of Christ's birth scene in Bethlehem. Museum "Riga Art Nouveau Centre" will also demonstrate an interesting Italian Christmas tradition that is connected with Befana. Befana is a witch that brings gifts and sweets to children on Christmas. However, if a child has misbehaved, Befana leaves a lump of coal for the child at the fireplace or below the Christmas tree. In modern times, the coal often is replaced by black sweets. In still other exhibition, the artisans from the Baltic Guild of Doll and Toy will let us look into the different images of Befana.

Families with children are invited to participate in creative workshops on 8 December at 12.00 and 14.00 and create their own Christmas tree decorations – paper angels together with artist Tamāra Čudnovska. On Saturdays of 22 and 29 December at 12.00 everybody is invited to enjoy the spirit of joint creativity in gypsum décor workshop together with artist and restorer Iveta Šveisberga.

Exhibition "Italian Christmas" was created in cooperation with the Italian Embassy to Latvia, the representative of the foundation "Italian Design Association" Enzo Fornaro, MUSLI Museum in Italy, Italian language schools L'ITALII, Dante Alighieri Society in Latvia as well as artist Tamāra Čudnovska. The exhibition is supplemented with the items pertaining to the celebration from the collection of the museum "Riga Art Nouveau Centre".

Museum is very grateful to the Embassy of Italy in Riga for the collaboration and invites everybody to celebrate the festive season in exhibition "Italian Christmas".