Easter in Museum "Riga Art Nouveau Centre"
23.03.—22.04.2018.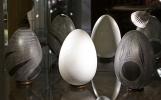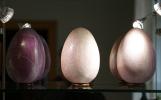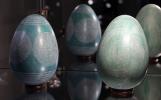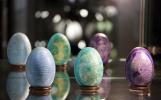 Italian artist Zoppegni has graduated from the Painting Department in the Accademia Albertina in Turin. She has taught painting in Turin from 1971 to 2011. Since 1970s the artist has participated in group and solo exhibitions in Italy and abroad – in Madrid, Rome, Glasgow etc. She started making the engraved ceramic eggs in 2010. The egg is considered to be the beginning of everything, it symbolizes the appearance of life and fertility and it describes perfection. The artist has perceived the egg as a meditation on femininity and fulfillment in motherhood. The exhibition at the museum "Riga Art Nouveau Centre" features forty coloured eggs of different sizes. The ceramic eggs are decorated with an ornamental engraving which repeats itself, but simultaneously seems so different. The exhibition at the museum "Riga Art Nouveau Centre" has been arranged in cooperation with the Italian Embassy in Riga and the representative of the foundation "Italian Design Association" Enzo Fornaro.
The interior of the museum for this Easter is supplemented with festive decorations designed by artist Tamara Čudnovska, which have been inspired by their historic counterparts. The flowers are made of silk, wax and even sugar mass. The room decorations would not be complete without the Easter rabbit, chicken, eggs decorated in different techniques, spring flowers and greenery. The Easter tree decorated with silk ribbons and eggs as the central element is exhibited in the conservatory. It symbolizes the tree of life, the tree of learning the good and the evil. The decorations contain crepe paper which appeared as a decorative material in England in the 19th century and became popular for festive decorations in Europe. The Easter wreath that is placed on the dining room table symbolizes eternal life given as a gift by Jesus Christ through his sacrifice. The baskets of different shapes are very popular decorations at Easter because namely in them Easter eggs were hold. The flower-decorated baskets exhibited in the museum have been made by Tamara Čudnovska. In the dining room visitors will see a chocolate rabbit and a cookie lamb created by using the historic metal molds from the museum collection. According to the European tradition an Easter able had to have three Easter symbols on it: flowers and green grass as a symbol of the awakening nature, rabbit as a symbol of vitality and candles as a symbol of light.
The interior of the museum features objects from the beginnings of the 20th century related to the arrival of spring that have been found in the museum collection. Among the exhibits there are also Easter postcards from the beginning of the 20th century. They have been reprinted based on the originals and can be bought at the museum shop.