Exhibition of Henry Clemens Van de Velde
04.06.2013.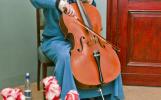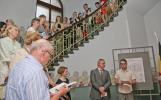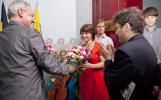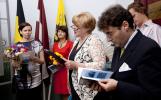 The building was built in 1912 on Valnu street 22 in Riga, during Second World War the building was destroyed.
In occation of this exhibition the model of the building was made.
In cooperation with the H.M. Mr Frank Arnauts - Ambassador of the Kingdom of Belgium in Latvia, Mr. Koen Haverbeke, Representative of the Flemish Government, and University of Gente, VG Kvadra Pak,Jaga, Deltalight, Vandersanden group,Flanders Road Service, Institute of Goethe in Latvia, The State Culture Capital Foundation, The National Library of Latvia, The Library of the University of Latvia, the exhibition is created by Sampling, curator Manten Devriendt, photographer Alnis Stakle, work group: Liene Jākobsone, Kārlis Narkēvičs, Jonas Apers, Prof. dr. Maarten Van Den Driessche, Prof. dr. Dirk De Meyer, Riga Art Nouveau Centre.